Ha Long tourist destinations in recent years have become very hot and attracted the attention of tourists. Let's take a look at the top 15 destinations that you must check in when coming to Ha Long!
Ha Long BayAs one of the world natural heritages recognized by UNESCO, you will definitely have to be proud when you set foot in Ha Long Bay. With an area of ​​1553km2, nearly 2000 large and small islands, Ha Long Bay is favored by nature with a system of caves and rocky islands that are both diverse and beautiful.
Here you can see the wild beauty of the mountains, large and small islands, visit Bright Dark Cave, or visit Lan Ha Bay. You can book a day cruise to visit the bay, but really, if you want to see the full beauty of this place, you should book a 2 days 1 night Ha Long cruise.
Bai Chay Beach
As one of the hottest tourist destinations in Ha Long, Bai Chay always attracts a lot of tourists to visit, experience and swim. This year, the beach also has more sea sports activities such as canoe, parachute or pontoon house so that visitors can enjoy more advanced services. Especially, Bai Chay beach has a service that provides free wifi for visitors so that you can check in more easily!
Sun World Ha Long Park
Traveling to Ha Long, you should definitely not miss Sun World Halong Park – a famous entertainment complex for all ages. If you've been to VinWonders, Ha Long Park is a similar paradise, but it will be much busier. Ticket prices here will be divided into two types, buy individual parks or buy combos of 2-3 parks.
You will experience the extremely hot adventure games here such as Phi Long Than Toc, Magic Umbrella, Coc Than … in Dragon Park. At Typhoon Water Park, you can enjoy yourself with super exciting thrills.In addition, a highlight you cannot help but try when coming to Ha Long Park is the Queen Cable Car. Boarding the Queen's Cable Car to the Mystic Hill, you will admire the magnificent panorama of Ha Long Bay on the Sun Wheel. You can refer to Ha Long entertainment tickets to have fun without worrying too much about the cost.
Quang Ninh Library and Quang Ninh Museum
Belonging to Hong Hai ward, Ha Long city, two mysterious black buildings next to October 30 square are Quang Ninh Library and Quang Ninh Museum It only costs about 30,000 VND/adult (students or children will cheaper) for one visit, you will learn a lot about the culture and nature of Quang Ninh people with extremely vivid models.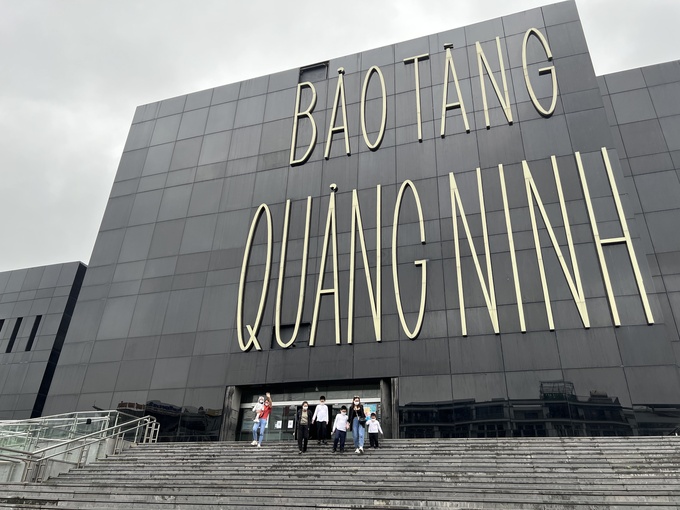 Not only can you check-in freely inside the Quang Ninh Library and Museum, you can't even move your phone from the outside beauty of this famous Ha Long tourist destination. Check in with 2 black buildings, the tank models outside are "excellent"! Especially if you come here in the afternoon, there is a rather empty cafe next to you so you can sit and watch the bay and enjoy the breeze!
Bai Tho Mountain
Bai Tho Mountain is a mountain about 200m high with a super beautiful view. You will find the way up the mountain at a small alley near house number 86 Hang Pot Street, Ha Long, Quang Ninh. One-third of the way up Bai Tho mountain has been built into extremely easy stairs, but going higher, you will have to climb the mountain, you should have a small bottle of water or two in case it is lost. water on the go!Next, you should go to Bai Tho mountain in the early morning so that it is not too hot at noon or too dark in the late afternoon, it will be very dangerous. When you reach the top, the panorama of Ha Long Bay will be captured in your eyes. This is a relic that keeps many poems of the kings when traveling to impress the beauty of Ha Long Bay, with important historical and cultural values.
Bai Tu Long Bay
Bai Tu Long is a sea area belonging to 3 districts and cities, including Ha Long. It has hundreds of limestone and sandstone islands with many attractive Ha Long tourist attractions such as Bai Tho mountain, Con Coc island, Thien Canh Son cave, …Each island in this bay exudes its inherent wildness. Beaches like Co To, Minh Chau, Quan Lan attract a lot of tourists to have fun and explore. Moreover, enjoying seafood such as sea worms, grouper fish, tu comedy, squid, crabs, crabs, … makes your trip even more complete.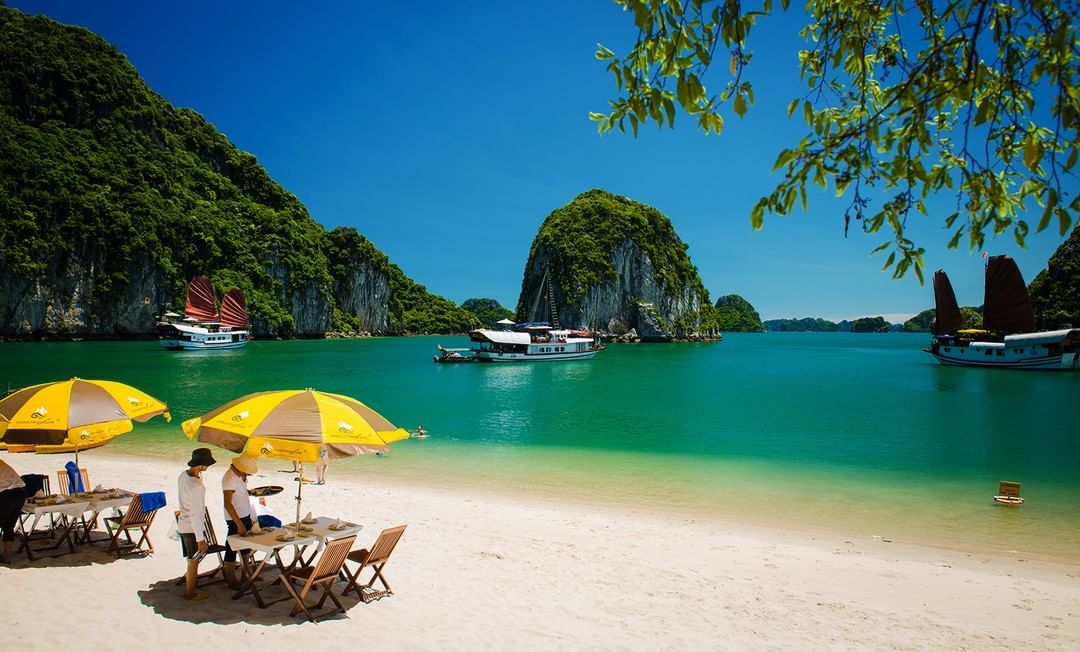 Soi Sim Island
In the route number 2 schedule, you will choose one of two destinations: Soi Sim island or Titop island. The reason for the name is that this island is the place where the most myrtle trees grow. When in season, on the mountainside, the purple myrtle blooms, making the landscape more lyrical.. This place has a quite quiet space, very suitable for rest and relaxation activities.Coming to Soi Sim island, you can not only immerse yourself in the cool beaches, but also watch the romantic natural space, play with monkeys, ride a water motor. With quite wild beauty, Soi Sim Island is a new tourist destination, giving visitors interesting experiences.
Cua Van fishing village
One of the most popular tourist destinations in Ha Long is Cua Van fishing village. This fishing village originated from two ancient fishing villages in Ha Long Bay, Giang Vong and Truc Vong. Previously, there were more than 300 households living by fishing, but now most of them have moved to the mainland, leaving only about 12 groups of rafts. The people here are very friendly and hospitable. Passengers can row a basket boat, cut fish, fish for squid… to better understand the life of fishermen.Not only enjoy the quiet and peaceful space here, visitors also have more understanding about the cultural and daily life of the fishermen. In 2012, Cua Van fishing village was in the top 16 most beautiful ancient villages in the world voted by travel website journeyetc.com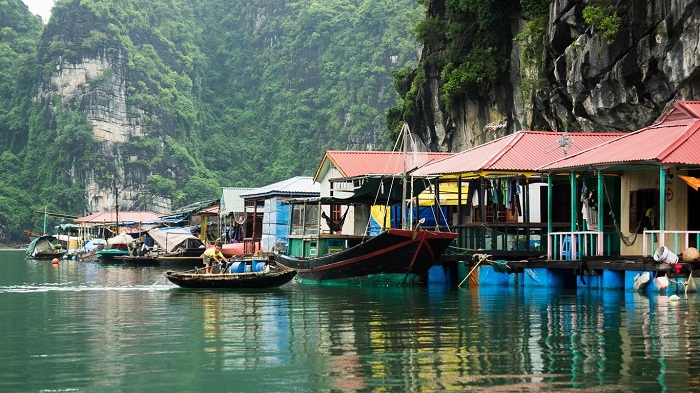 Surprise Cave
One name also says it all, you will be overwhelmed by the splendid beauty and rarely see Sung Sot cave (on Bo Hon island, located in the center of Ha Long Bay). Not only is the most beautiful and widest cave, Sung Sot cave is also home to many rocky islands with unique shapes that are hard to find anywhere else.A French scientist when coming here was amazed by the magnificent beauty of Sung Sot cave, named the cave "La Grotte des Surprises". It has an area of ​​​​up to 10,000m2, about 30m high and the walkway is up to 0.5km long. Sung Sot Cave was also voted in the top 10 most beautiful caves in the world in 2012
Thien Cung Cave
Thien Cung cave is located right next to Dau Go cave, with an area of ​​​​up to 10,000m2. With a complex multi-layered, multi-layered structure, the stalactites here have many strange shapes. This cave has been invested with a full lighting system.The road to the cave is quite steep, but surely when entering, visitors will be surprised and fascinated by the beauty of this Ha Long tourist destination. Pictures of birds, flowers, pictures of people's daily life are carved inside the cave. Many archaeological vestiges have been found proving important historical values ​​through the periods
Trong Mai Island
Hon Trong Mai is a symbol of Ha Long tourism, located in the southwest of the bay, 5km from Bai Chay beach. Most of the ships visiting the bay pass through this site. The island has the shape of two rocks that look like two large fighting cocks lying opposite each other, standing tall in the middle of the sea.Renting a boat to travel to Ha Long Bay, you can both watch the bay and enjoy the space here. Not only that, Trong Mai islet is also a source of inspiration for poets and writers. Even on handicraft products, artisans also use the image of Trong Mai island to create works of art and promote tourism.
Titop Island
If you buy a boat ticket to visit Ha Long Bay for 6 hours, you will be able to go to Titop Island. This place is considered to be the most special and attractive place on the bay. Conquering the top of the mountain 400 steps high, you will certainly not be disappointed when you can fully see the majestic nature of Ha Long Bay.The beach in Titop is shaped like a moon, embracing the island's foot. In the summer, this is the perfect place to escape the heat. In addition, kayaking or towing buoys, skydiving are interesting experiences that are often combined in the journey to discover destinations in Ha Long Bay.
Luon Cave
Luon Cave is very special because the brackish lake in the cave is surrounded by four mountains. An interesting experience when coming to Ha Long is kayaking or rafting through the cave, admiring the poetic scenery, you can also touch the stalactite ceiling.Although only over 100m in length, Luon cave is known as the most beautiful waterway in Vietnam. This place has a steep cliff, an arched gate is opened right next to the water's edge to enter the cave.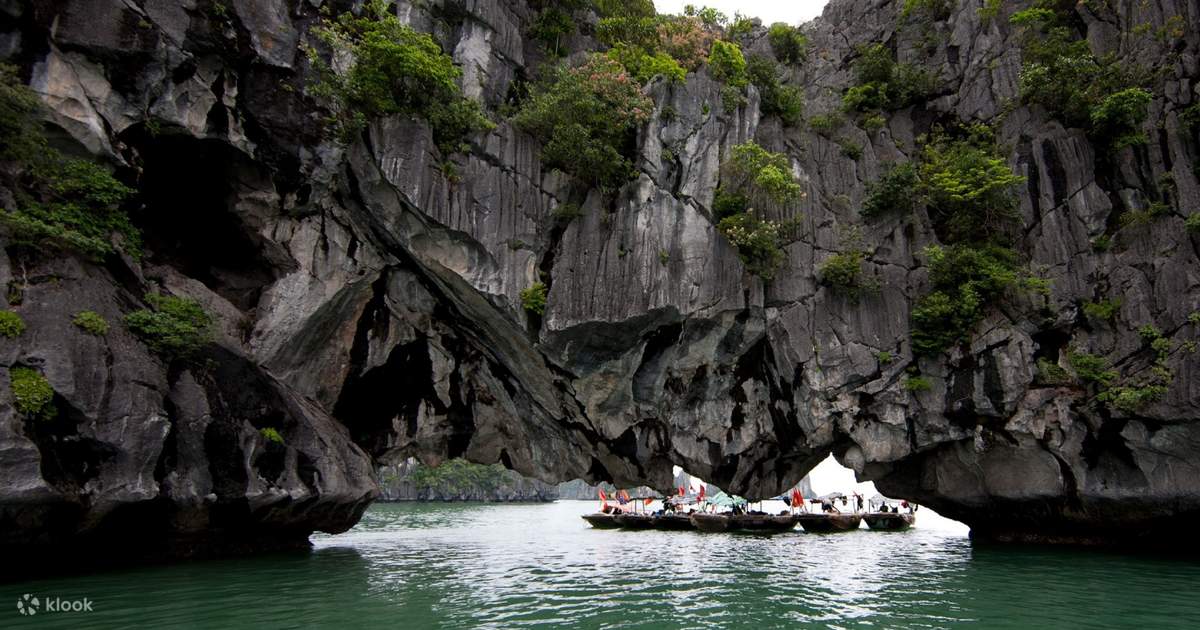 Little Viet Nam
Ha Long Old Town is an attractive tourist destination, a blend of modern and ancient features. This destination has faithfully recreated the architecture of Hanoi's old town and Hoi An. Hoi An Pho is decorated with yellow as the main color, each house has a porch, sidewalk and confetti. Along the street, red lanterns and handmade products are strewn across the street.Hanoi's Old Quarter is more modern, it feels like all 36 streets are shrinking here. Diverse cuisine combined with famous specialties of Ha Long will surely give you unforgettable experiences. Every corner here is very beautiful, so no matter where you stand, you can get super beautiful virtual live photos without editing.
3D Museum of Funny Art
This museum owns more than 40 3D paintings with a variety of themes. Many tourists, especially young people, like to come here to check in. Images of dolphins, crocodiles, waterfalls, Ha Long Bay, ghosts or classic paintings are quite popular.Going to the Funny Art museum, visitors will own one-of-a-kind life-changing photos. This museum is located at Marine Plaza, so you can both visit and shop.
Above are the top 15 "extremely hot" Ha Long tourist destinations that you must definitely check in. Every year, this city will change again and have more interesting attractions to meet the needs of visitors. So don't forget to update to make your journey to Ha Long more new and interesting.What are you waiting for, book a hotel room in Ha Long and a ticket to fly from Van Don to Ha Long right now!